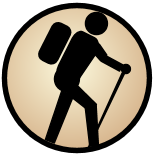 Hiker Badges
Hiker Badges are our way of acknowledging members who have provided a positive contribution to the site. You can earn one, two, three, or four hiker badges. If you see a member with four hiker badges, you can think of them as a "Hiking Guru!" To find out how many hiker badges you have, visit your
profile page
.
Is there any benefit to badges?
Bragging rights, maybe? More importantly, there are some privileges which come with badges:
You cannot post external links in your reports or bio until you have at least one badge.
You ability to post messages and comments is limited until you have earned badges.
The more badges you have, the more your votes count when you rate other members' reports.
Once you have earned a hiker badge, you can add new locations to the database.
How do I earn a badge?
We have a top-secret algorithm we use to award hiker badges to our most helpful members. Although we can't reveal the specifics, we can give you the following advice:
Write a combination of hike reports and trail condition reports.
Make sure you provide helpful information, because we look at how well your content is rated by other members!