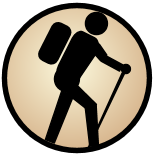 Center Hill
Center Hill is located in Maine, United States. It has an elevation of 502 meters above sea level. It is located at the following coordinates: (44.7257, -70.4082)
Write a Hike Report
Every week, the teen camp at Camp Good News in East Livermore, Maine takes its campers to Webb Lake, and then to hike Center Hill. As the camp pastor, this is my favorite day of the week!
It's was so much fun to "show off" the mountains around Weld to some kids who have never really seen mountains before. They were awestruck by the views, even before we got to Center Hill!
From Center Hill you get wonderful views of Tumbledown Mountain, the Jacksons (Big and Little) and Blueberry Mountain.
This really makes a nice little activity to do along with a visit to Webb Lake, and is definitely worth the short amount of time it takes to climb.
(more...)





Share this page
Report trail conditions
Describe this location
Write a hike report
Describe this location
If you are looking for an easy, easy hike for the whole family, Center Hill in Weld, Maine is the place to go. Center Hill is part of the Mount Blue State Park, and only takes a few minutes to hike. For such a short hike, the views are really quite remarkable. In fact, you can get some great views just by driving up to the parking lot, without even doing a bit of hiking!