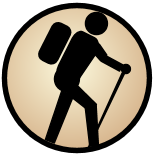 Mount Katahdin is located in Maine, United States. It has an elevation of 1603 meters above sea level. It is located at the following coordinates: (45.9043, -68.9213).
This hike report was written by
Anonymous
, about a hike on Thursday, July 26, 2007.
Not enough votes to display a rating
The trailhead (Chimney Pond Trail) is located at Roaring Brook in Baxter State Park, via the access road. You won't miss it...call ahead to secure reservations if camping! The sites fill up in summer, but are relatively remote.
My girlfriend and I camped at Chimney Pond and summited Katahdin on 7/22/07. The weather was beautiful, a bit cool at night (50s). I find this trip (my 5th) to be done best by camping...some do the whole route from Roaring Brook to summit and back, but it's a bit much for many. The first night, a 2 yr. old bull moose kept us company - we watched him browse vegetation for a couple of hours before he moved on. Nothing beats watching the sun set from Chimney Pond! Those who camp there appreciate these things, and good company abounds.

From Chimney Pond, four routes are available: Dudley Trail (a challenge), Cathedral (the hardest), the Saddle (easiest) and the Hamlin Ridge (middle of the road). We chose to summit via the Hamlin Ridge, approx. 2 miles, to intersect with the Saddle. From Saddle to Baxter Peak is another 1.5 miles of boulder scramble/rough trail. There is a spring on the marked trail near Hamlin Peak, and another (Caribou Spring) on the downslope side of the peak. To the best of my knowledge, this water is safe to drink (not sick yet!).

Hamlin Ridge is an undiscovered jewel. We didn't meet another couple of hikers until we hit the peak. The views of Katahdin just to the south, with the North Basin on the opposite side, were intense! The climbing was rough enough so that I wasn't bored, but was still ok for my girlfriend, who is just getting started. Much of the trail is very steep, with multiple "false" peaks. I referred to it as "Knife Edge Junior". The solitude and beauty of this route more than made up for the additional distance we traveled to get to Baxter Peak.
At Baxter Peak (2 hrs. from the Saddle), we had great weather and a small crowd for the traditional sign photo. The panoramic view to the southwest and west from the summit are indescribable! The return to Chimney Pond via the Saddle Trail took about 3 hours, at an easy pace.
The following day we hiked out. A good way to see this mountain and not kill oneself! And, my girlfriend will go back with me, so it must not have been that bad ;o)
Visit Baxter State Park's website for maps, distances, and reservation information...
This wasn't a cakewalk...respect the mountain! Frequent rests are necessary, esp. for those not accustomed to New England trails. Much of the trail is (obviously) steep, and boulder-strewn. Some scrambling and scree slopes have to be negotiated. Summiting is above treeline...water, raingear, and sunscreen a must! The weather can turn rapidly, so heed the reports at the ranger stations.
The approach to Katahdin from Roaring Brook to Chimney Pond is 3.3 miles. The pond is located at the base of the mountain, and is a moderate hike (approx. 1,000 foot gain). Usually achievable in 2 to 3 hours depending on ability. Water is available at Roaring Brook and streams along the route; please treat with tabs or filter.


Share this page
Find a mountain
Write a report