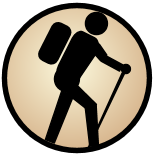 East Royce Mountain is located in Maine, United States. It has an elevation of 946 meters above sea level. It is located at the following coordinates: (44.3074, -71.0056).
This hike report was written by
Douglas Twitchell
, about a hike on Tuesday, July 8, 2008.
Not enough votes to display a rating
From Maine, follow Route 2 west to Gilead, Maine, and turn left onto Route 113. Note that this is a SEASONAL road - it is closed during the winter months. As of this year it was listed as closed from December 1st until June 28th. Be sure to check whether it is open before making the trip!

Once you are on Route 113, follow south past Hastings. The trail head will be on your right. There is a sign for both hiking and parking, and the parking lot is immediately adjacent to the road. Currently you need to bring $3.00 as a parking fee for day use in that lot. The trailhead is clearly marked at the back of the parking lot.
My friend Bobby and I did this hike on what is probably the hottest day of the summer so far. We knew it was going to be hot, so we started early; we hit the trail just a few minutes past 8:00 A.M.

This was definitely the most difficult hike I've done this summer - in addition to the reasons I mentioned in the "difficulty" section, it was made especially challenging because of the heat; that just sapped the energy out of me!

When you're hiking you hope for stretches of flat ground (or very little incline) after climbing up for awhile - in this hike, whenever we saw flat areas in the path, they never lasted very long. We were continually moving upward throughout the hike.

I took a GPS with me, and was interested to see how jagged and irregular our trail was. I was glad we didn't go STRAIGHT to the top - that would have been unbearably steep!

A little over a mile into the hike, you'll hit the "connector" trail - this is the trail that leads to the southern trail head. When you reach this connector, turn right (there's a sign there that points you toward the peak).

It's at this point that you start climbing over a lot of exposed tree roots, which makes the hike more tiring. After about 0.3 miles, you'll come out onto the summit, and the views to the south and west are nice, although they were a bit gray today because of the haze in the air.

We tried to guess what mountains we were looking at; the tallest one we could see had a bald face, and upon looking at a map later, we concluded that it was probably "Bald Face Mountain" (how's that for original?)

We sat at the peak (Bobby hid from the hot sun by sitting under a scraggly tree) and had our lunch, took some pictures, and then headed back down.

I'd like to do this hike again sometime when the skies aren't so hazy; I suspect that on a clear day with good visibility, the Presidential Range should be visible.
This is the most challenging hike I've done this summer. It's almost the same distance and elevation gain as Mount Blue, but the hike is a bit steeper. In addition, you'll be climbing over some boulders, and near the top you'll be climbing around a lot of exposed tree roots, which make the hike more tiring.

Because of the boulders, small children may need a hand with some parts of the hike.
This hike took about 2 hours from trail head to summit. Our distance traveled (one way) was about 1.5 miles, and our elevation gain was 1700 feet.

Once you reach the connector to the southern trail, you only have about 0.3 miles left to the summit.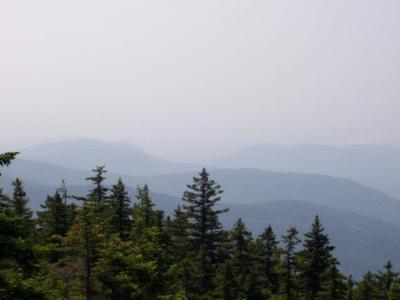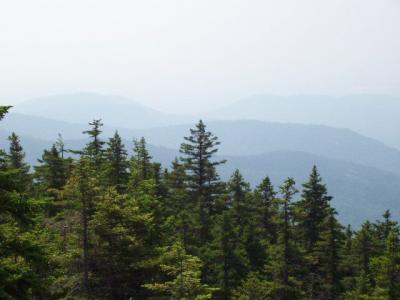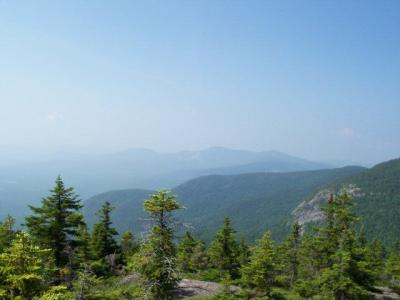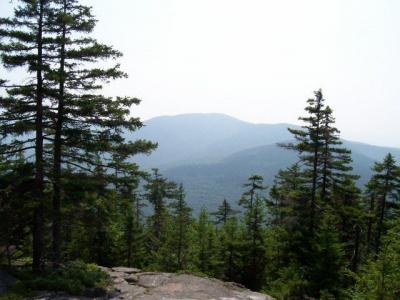 Images on this page are the property of Douglas Twitchell, and may not be used without permission of the owner.
Your message has been sent.
Share this page
Find a mountain
Write a report
Most of my hiking happens in the North East region of the United States. I don't hike as much as I used to, now that we have a baby in the house, but I do love to get out and explore now and then! If I've provided incorrect info in any of my reports, please drop me a comment so I can fix it!
(more...)
Click here
to view more content by this hiker.