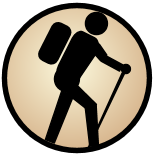 Saddleback Mountain is located in Maine, United States. It has an elevation of 1231 meters above sea level. It is located at the following coordinates: (44.9367, -70.5031).
This hike report was written by
Douglas Twitchell
, about a hike on Thursday, September 11, 2008.
Not enough votes to display a rating
If you want to follow the Appalachian Trail, head up Route 4 from Farmington toward Rangeley. If you look at a map, you'll see there's a section where Route 4 heads close to North for awhile, then makes a sharp 90 degree turn toward the west. (There is also a series of little ponds right at this 90 degree turn). The AT trailhead is about halfway up that North-bound section of Route 4, and it is clearly marked.

This is NOT what we did. Instead, we continued on to that 90 degree turn by the ponds, and took a road which goes between two of the ponds. On maps, this may be labeled as "Old County Road", but the street sign says "Beech Hill Road". Follow this between the ponds, and then you'll come to a 4-way intersection. Turn right, which keeps you on the Beech Hill Road.

This is a dirt road, and not well maintained, so don't do this with a low-posted vehicle unless you're very careful.

Drive slowly, and watch for a trail (there are NO SIGNS marking it!) that crosses the road. The trail will have white blazes. Once you find it, drive just a little further and you'll find a place where you can park your car off the road.

The trail I've just described is the Appalachian Trail. By parking here, you avoid hiking in from Route 4, which saves a little under a mile of hiking (one way).

As you walk back to the trail from where you parked, You'll take the trail to the right, to head up the mountain.
I'd hiked 15 different mountains this summer, but none of them were mountains on my "To Do" list (the 4000 footers in the state of Maine). So I really wanted to hit at least two of them before I called it quits on hiking for the year and went back to work.

I have some friends who are in pretty good shape, so I asked them if they would be willing to do TWO 4000 foot peaks in one day with me. They were willing (though afterward they informed me that next time THEY were picking the mountain!)

The reason I wanted to do two is, Saddleback Horn is only accessible by way of either Saddleback or Saddleback Jr. In other words, you can't get to it without hiking ANOTHER mountain first.

We started about an hour after daybreak on the Appalachian Trail. The AT is not really well maintained here (as of 2008); it was surprisingly muddy, and many of the log bridges over the mud were quite rotten.

Bring an extra pair of socks or two with you, because if you accidentally step in a bog (which a couple of my hiking companions did a couple times), you'll want to be able to change into something dry.

A little more than a mile into your hike you'll come across a side trail to Piazza Rock. This is a very short detour, and Piazza Rock is quite interesting.

Returning to the Appalachian Trail, you'll continue on, and go by a series of three little ponds. Very nice, pretty, but mostly obscured by trees. Along the way, the trail gets muddier, and the bridges less reliable. At one point, you might see a stack of branches and small logs across the trail (again, as of 2008). These are intended to convey the message: "Even though the trail goes straight ahead, and you can see bridges over the mud, don't go this way."

Unfortunately, we didn't catch that message, so we stumbled our way through the mud. Eventually we realized that by that little stack of branches, there was a detour to the right (blazed with white blazes) that takes you around all the mud.

Eventually, after passing the third pond, you'll come out onto an ATV road. You'll cross this road, and continue on into the woods. Here is where you actually start your serious climbing. The elevation gain comes all at once after such a long hike through the woods with very little elevation gain.

After working your way up the mountainside, you'll finally reach the open ridge. I had warned two of my hiking companions that this ridge goes on for quite awhile before actually hitting the summit, but the third companion I had forgotten to tell, so he was convinced we were almost to the summit. But once you hit this ridge, you've still got a fair amount of hiking ahead of you.

It's not steep, though; once you've hit this ridge, you've gotten most of your elevation gain. And since you're out in the open, you get nice views of all the mountains around.

It was quite windy, so I was glad I had brought wind pants and a jacket; I put those on about the time we started getting out into the open above the trees.

We reached the summit of Saddleback 4 hours after we started hiking. It took us another hour and fifteen minutes to get to The Horn. As you look toward the Horn, there's a little bit of a peak directly in front of you; that's still part of the main peak, so don't be fooled into thinking that's the Horn. Once you get to that little summit, you'll see that you have a long trip down and back up to hit The Horn.

We got to The Horn, and snapped some pictures, but didn't stay there long, because it was very windy, and nowhere to get out of the wind. We turned around and started our backtrack, and once we found a little shelter, we stopped to eat lunch.

While we were eating, some AT hikers passed by, and quickly ecognized that we were day-hikers. One of them said, "Where do you day-hike this mountain from?" I wasn't sure, but I got the sense that she was really asking "What kind of moron does this as a day-hike?" :)

The worst part of the day was returning to Saddleback from the Horn. It was a struggle for me to get that elevation gain. Partly because I was tired, but also because I already KNEW what was at the summit because we'd already been there! The anticipation of reaching the summit isn't nearly so grand when you were just at that summit two hours earlier!

After pausing again for a short rest at the top of Saddleback, we headed back down the mountain. This was a very long hike, but since it was downhill, we made excellent time. The hike up to Saddleback summit took us four hours - the return from that summit to the trailhead only took us 2 hours and 45 minutes.

We were all VERY glad to be back to the car at the end of this hike.

Bobby (one of the guys I hiked with) asked me, "Have you ever done these two peaks before?" My answer was, "No. If I had already done the Horn, I wouldn't be trying to do both of these mountains in one day."

I'll probably never hike The Horn again, because the views aren't any more impressive than Saddleback's and it's not really worth the extra effort. But I'll probably do Saddleback again someday...just without the extra leg added onto the journey.

But if you're trying to hit all the 4000 footers in Maine, this is a hike you'll need to do at some point!
This was the hardest hike I did all summer. Not because Saddleback is the hardest mountain I've hiked, but because it is such a very long hike to do both Saddleback AND the Horn.

We saw very few day hikers on this mountain; mostly it was Appalachian hikers - most of whom had started in Georgia, and were almost finished with the entire AT!

I needed to do both peaks, because The Horn is ONLY accessible by hiking another mountain first, and it's on my list of 4000 footers I'm trying to bag. Having done it once, though, I really doubt that I'll ever do it again.

But Saddleback, by itself, without the Horn, would be a much more manageable hike, though still a challenge if you're not in shape!
We hiked the Appalachian Trail from Beech Hill Road to Saddleback Mountain, and then to Saddleback Horn, and then backtracked over Saddleback, then back to the beginning of our hike. Total time: 9.5 hours. Total distance: approximately 13 miles. Elevation gain to first summit: roughly 2,500 feet. Elevation loss between Saddleback and The Horn: about 600 feet.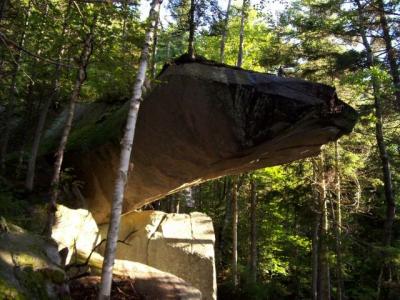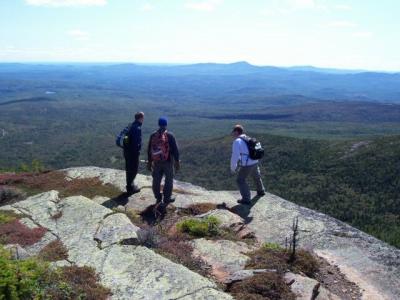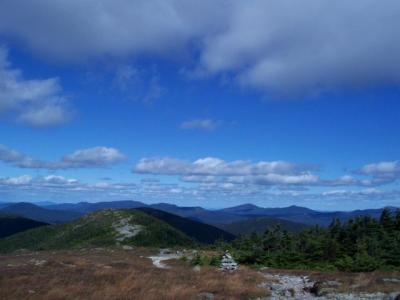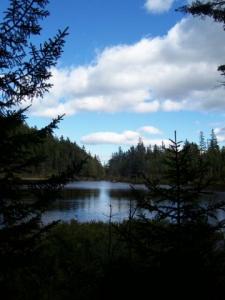 Images on this page are the property of Douglas Twitchell, and may not be used without permission of the owner.
Your message has been sent.
Share this page
Find a mountain
Write a report
Most of my hiking happens in the North East region of the United States. I don't hike as much as I used to, now that we have a baby in the house, but I do love to get out and explore now and then! If I've provided incorrect info in any of my reports, please drop me a comment so I can fix it!
(more...)
Click here
to view more content by this hiker.