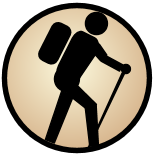 Speckled Mountain is located in Maine, United States. It has an elevation of 885 meters above sea level. It is located at the following coordinates: (44.2911, -70.955).
This hike report was written by
u2busaru
, about a hike on Monday, October 17, 2005.
Not enough votes to display a rating
From Fryeburg Maine, travel 15.5 miles north on Rt. 113. About 3/10s of a mile past the park gate, part at the Brickett Place, located on the east side of the road (right). From the parking lot, the trailhead is clearly marked. A daily user fee is required.
We had an incredible hike! It was October 1, 2005. The sky was perfectly blue and the temps were in the 60s. The group was myself, my brother-in-law George, my friend John, his step-son TJ, my friend Jeff, and my dad. What I enjoyed most about the hike were the views. I've hiked higher peaks and have had far less views than along this trail. Take the time to walk out and around the lookout loop. Keep a close eye for trail markers in this area. Also, it is hard to tell when you reach the peak of Ames Mt. You think it is a false peak, then return into dense forest and realize your at the trail split heading to Speckled Mt. We split up a bit on the descent. We were told by the ranger that the Bickford Slides were a great place to swim. I didn't actually see them myself (I was trailing behind with my dad), but George said they were pretty much a death trap. If he says that, they probably are, because he'll swim in anything. John saw a moose, my dad and I saw a pair of grouse and I found some moose hair. At most, we saw about 20 other people all day.
Initially, it feels like a nice walk through the woods. Once you reach Bickford Brook and cross over (approx. 15 minutes into hike), it is uphill for the next mile or so. There are definitely some steep sections, but nothing where we had to "Spider Man" our way up. Once we reached the Lookout Loop and continued our way across the ridge, it was fairly gradual the rest of the way. Going down Bickford Brook Trail was about as gradual and easy as they come. We kept thinking that it was going to get steep and it never really did. I would definitely recommend doing the loop this direction rather than the reverse. Overall, due to the steepness of the ascent and mileage (8.2 miles roundtrip), I would rate it an intermediate hike.
Overall, the hike is about a 2300 foot elevation gain. Blueberry Mt is at 1700 feet. Getting there is the steep part. From there to Ames is only about 900 vertical feet across the ridge. Ames elevation is just over 2600 feet. From Ames to Speckled is 1/2 a mile each way with only a 300 foot vertical gain. There were six of us on the hike. My dad, age 57, who doesn't hike much found it pretty challenging. He and I stayed at the back of the pack and it took us about seven hours round trip. This was with an hour for lunch at the top of Blueberry. Also, he didn't hike to the to of Speckled. We just met the guys at the trailhead. They said from the split to the top of Speckled, it only took them about 20 minutes round trip.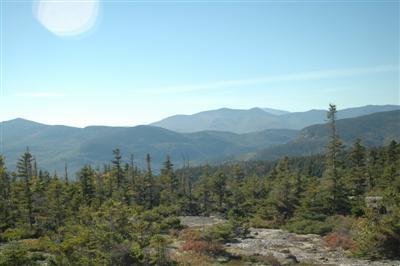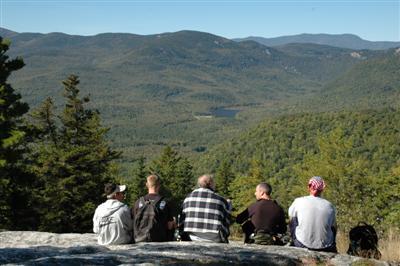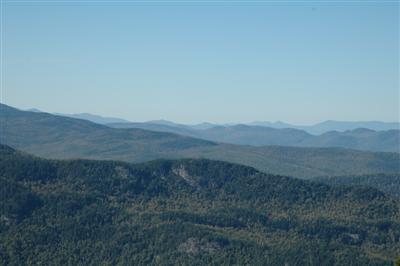 Images on this page are the property of u2busaru, and may not be used without permission of the owner.
Your message has been sent.
Share this page
Find a mountain
Write a report