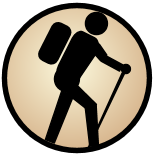 Arethusa Falls is located in New Hampshire, United States. It is located at the following coordinates: (44.1465, 71.3927).
This hike report was written by
Anonymous
, about a hike on Sunday, October 11, 2009.
Not enough votes to display a rating
Frankenstein Cliffs around to Arethusa Falls
Didnt realize the hike would be so long started out towards Frankenstein Cliffs. Slow upgrade in the begining then about 10 -15 minutes into the hike it got steep. It was comfortable weather and I was with my 3 sons 15 14 and 8. We took a few 10 minute catch your breath water breaks until we reached the cliffs. We were all pretty soaked with sweat so we were definitely working hard. Almost ran out of water. The trek from the cliffs to the falls was a slow decline long steep at times. Throughout the whole hike there were a couple of other falls . Arethusa falls was real nice wished it was warmer weather but stuck my feet in the FREEZING clear water anyway. BRRRR! The hike out was man made with log and stone steps and a lot of huge root would have been a good smaller family hike in and out of the falls would take about 3 hours round trip. The trail was marked with blue markers throughout. Good first hike. Liked having a soothing destination to relax at.
im a first time hiker and in decent shape it was a GOOD workout pretty intense climbing but do-able with an 8 year old in tow
4 1/2 hours ; 1250 feet total elevation on the Cliffs (per someone elses report)
Share this page
Find a mountain
Write a report