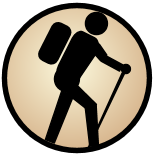 Mount Saint Helens is located in Washington, United States. It has an elevation of 2078 meters above sea level. It is located at the following coordinates: (46.1912, -122.194).
This hike report was written by
schwarz
, about a hike on Monday, September 26, 2005.
Not enough votes to display a rating
Follow I-5, follow Route 503 to Route 90 East, then north on 25 followed by Route 99 into Windy Ridge.
I was there in November so the weather was definately getting on the cooler side. It was a gorgeous day however and I had a wonderful hike. I was on my own that day, probably not the wisest thing when going someplace new and into an area as remote and deserted as this was. I did make a point of signing in to the Climber's Register down on Route 503 at Jack's Restaurant and Store. This is where you can also get climbing permits for climbing up to the rim of the crater from the south side. I didn't do this as it was late in the year, and I was on my own, but apparently this hike, although rigorous, is open and doable by amateur hikers.
The hike I took was on the north side of the volcano, where the land is still pretty barren. Very little vegetation can be seen, pretty much just dirt and rock. There are places though where you can begin to see lichen growing on some of the rocks. I was able to do the loop that takes you into the base of the waterfall (Loowit Falls) coming out of the crater. I think I saw only one other hiker and his dog. It was very neat to see the volcano up close and personal like this and to see the devastation caused by the eruption.
DUE TO THE CURRENT ONGOING ERUPTION, THIS TRAIL IS NOT OPEN FOR HIKING AT THIS TIME. (October, 2005)
Please see
http://vulcan.wr.usgs.gov/Volcanoes/MSH
for more information on Mt. St. Helens
This hike is definately more of a hike than a climb. There is not a significant change in altitude from the parking lot to the base of the falls. The hike is fairly lengthy for your average person. I'm in fairly good shape, but definately felt it in my legs by the time I was done.
As I mentioned, this is more of a hike than a climb. Leaving from the Windy Ridge parking lot, you hike 2 miles in on a dirt road. From there, a loop may be made that goes across the plain in front of the crater, including a stop at the base of Loowit Falls which is the stream coming out of the crater. This loop is about 6.5 miles long - total hike a little over eight miles.
Your message has been sent.
Share this page
Find a mountain
Write a report