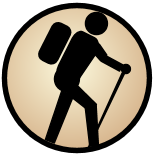 Chausu-dake is located in Japan. It has an elevation of 1480 meters above sea level. It is located at the following coordinates: (37.1167, 139.967).
This hike report was written by
sidintokyo
, about a hike on Friday, May 20, 2011.
Not enough votes to display a rating
1. Gondola parking area. Only one trail from
the gondola stop.

2. Wide stairs at end of parking area. This is the last parking area past the Mt. Nasu gondola.
1. There is only one car road to Mt. Nasu. If
you go in the summer, you must go before 7am or you may spend two hours in traffic and still not get a parking spot and have to turn back.

2. Some days you get lucky. No cars. Mild weather, no wind, a little snow still on the trail (15 meter stretch) and on neighboring mountains, giving wonderful contrasts. About 700 meter elevation gain, to the top. About 300 meter gain to the "hut" and easy trail to "ushi ga kubi". This is enough for a wonderful outing and about 25 minutes from the hut, passing hissing steam vents.
I did the climb to the top and down almost to the gondola and then around to "ushi ga kubi" and down to my car. It was a lot. Waterproof hiking boots were essential and some cheap cotton gloves for holding onto the rocks and maybe snow. A thin half sleeved shirt was enough, but prepare for weather changes.
"I'm a mountain"

The first part of the "hike" is really rock stairs
for about 25 minutes through underbrush and then a good trail with fantastic panoramic views of the valley and of the rugged Asahi mountain across the gorge and of the surrounding valleys and mountains. There was too much snow on the Asahi trail for my taste, but some people could be seen hiking there.
Asahi-take is a favorite of the Royal family, which has a summer place nearby in Nasu.

Only two days before, I hiked the much easier and shorter trail to "ushi ga kubi", and that really was enough to test my knees for a first hike of the season. I am very much of an amateur hiker, so I was very pleased with myself for the two outings (and picnic lunches). No toilets or water on the trails.

Summer can be a traffic jam on the trail, since it is very popular. The lift is from April to November. The road to the lift and further is closed about mid-November, but it is snowplowed (maybe 3 meters in January).
One friend would hike there with no jacket in preparation for an Everest trek. Not for me.
(I am 72, but in pretty good shape.) I did the
loop in 4 hours 20 min., while the guide map suggests 5 hours.)
Hot springs on the drive down.
Moderate. Good trails for the family
1. Several trails. About 40 minutes to top over steep gravel and rocks; or, about 30 minutes to "ushi ga kubi" which is easier and maybe better views.
2. 5/20/2011 4 hours 20 minutes, with two brief rests. To top and around and back.
Your message has been sent.
Share this page
Find a mountain
Write a report