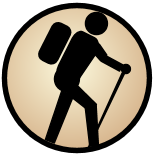 Pleasant Mountain is located in Maine, United States. It has an elevation of 612 meters above sea level. It is located at the following coordinates: (44.027, -70.8223).
This hike report was written by
Anonymous
, about a hike on Monday, August 8, 2011.
Not enough votes to display a rating
we took the trail that starts at fire lane 50, you can get to it by diving down the road that points to east side from shawee mountain.
We just got off the mountain about 45 minutes ago. The way up is pretty intense. we took the trail from fire lane 54. It starts off very easy, untill you get about half way. it becomes wicked steep. The entire hike took about 1 hr, but you get some breath taking views along the way. I wouldent waste the energy going to the top, because the view is much better about half way. at the top you are staring at the back side of another mountain, and all the other mountains are almost invisible even when its sunny. the elevation is 2006 vert ft, but you only climb 1600 ft. The tower is not for the public, its a fire tower and its all boarded up. Alltogether, they would be a very nice hike for fit and expierenced hikers, and i would NOT reccommend bringing kids under 10
med/hard
ele gain, 2006 ft. time elapsed, 3 hrs.
Share this page
Find a mountain
Write a report