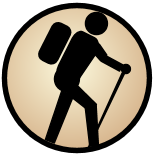 Tumbledown Mountain is located in Maine, United States. It has an elevation of 931 meters above sea level. It is located at the following coordinates: (44.7501, -70.5488).
This hike report was written by
Anonymous
, about a hike on Monday, May 28, 2012.
Brook Trail, Tumbledown Mtn., Weld, Maine
Hike was truly awesome. Took us (Mike, age 13/Kristi, age 28 and myself, age 50) just over 2 hours to get to the top, where you will find the most beautiful pond. We started hiking at 7am, took our time and many breaks to take photo's. This is the first hiking adventure we have taken besides Mt. Pisquah in Winthrop, Maine, but will be trying another trail on Tumbledown in October. The view at the top is just spectacular and can't wait to see it during the foliage. Met many people as we headed down around 9:30am, much quicker going down. We did change our socks and shoes at the top so we had dry feet for the trip back down.
Would not recommend bringing small children as their are points crossing wet rocks and manuvering around big rocks
Started at the trail marker and went to the top to the pond
Share this page
Find a mountain
Write a report