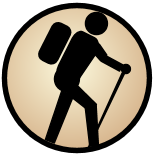 Mount Tire'm is located in Maine, United States. It has an elevation of 336 meters above sea level. It is located at the following coordinates: (44.177, -70.7244).
This hike report was written by
Douglas Twitchell
, about a hike on Wednesday, December 29, 2010.
Not enough votes to display a rating
As you come into Waterford by Keoka Lake, you'll see the Plummer Hill Road of Route 35. Turn onto Plummer Hill, and shortly you will see a church and meeting hall on the right with a parking lot between them. The last time I was over there, someone connected with the meeting hall assured me that it's fine to use the parking lot. After parking, walk up the hill a bit, and the trail is on the other side of the road.
For me, hiking Mount Tire'm on December 29th, 2010 was a big milestone; I had made plans to hike 100 mountains over the course of the year, and on December 29th I was at #98. So I started the day by hiking Singepole, and then drove to Waterford to hike Tire'm.
Since it was December, I did the hike on snowshoes. The trail is an excellent workout in the winter time; it's steep enough to really get your heart pumping, but not generally slick or dangerous.
The trail is very well marked, and leads steeply up through the woods to the summit.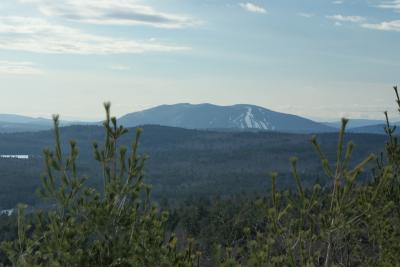 View of Pleasant Mountain
Strictly speaking, the scenic vista is not at the summit; you can continue on along a trail, but I'm not sure if it leads anywhere. I followed it for awhile, and found a spot where it appeared as though someone had a camp site.
There aren't a lot of views from the top; you have one opening in the trees on some rock ledges where you can look out to Pleasant Mountain.
Here's me being
very
happy about finishing my 100th hike: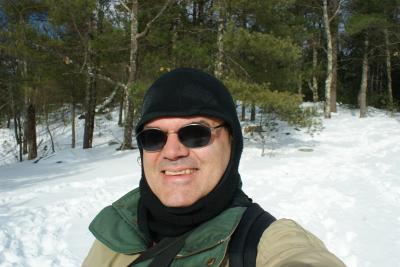 Celebration!
The return journey was uneventful.
A good workout, but not long, and readily done by families.
The hike is about 1.2 miles round trip, and rises about 660 feet in elevation, which makes it a fairly steep hike.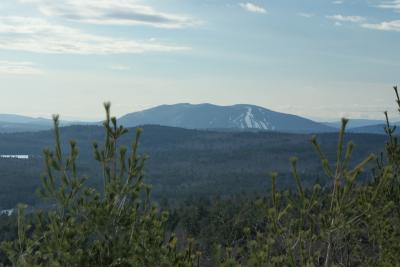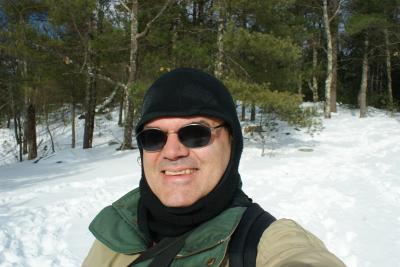 Images on this page are the property of Douglas Twitchell, and may not be used without permission of the owner.
Your message has been sent.
Share this page
Find a mountain
Write a report
Most of my hiking happens in the North East region of the United States. I don't hike as much as I used to, now that we have a baby in the house, but I do love to get out and explore now and then! If I've provided incorrect info in any of my reports, please drop me a comment so I can fix it!
(more...)
Click here
to view more content by this hiker.