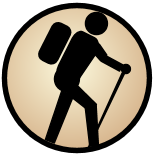 Half Dome is located in California, United States. It has an elevation of 2690 meters above sea level. It is located at the following coordinates: (37.746, -119.533).
This hike report was written by
yosemiteSam
, about a hike on Thursday, July 14, 2011.
Not enough votes to display a rating
This is not a hike for the faint of heart, or the out-of-shape! This is a serious, all-day climb which involves some very intense rock climbing. There is a "cable route" - two lines of cable that form a ladder-like construction to help you over the worst of the rock climbing.

Don't mess with this unless you're a serious climber.
The hike takes all day - it's about 15 miles round trip, and has an elevation gain of just under 5000 feet (though the dome has an elevation of almost 9000 feet above sea level.
Your message has been sent.
Share this page
Find a mountain
Write a report