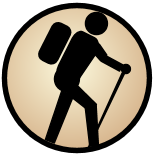 Cerro Picacho is located in Panama. It has an elevation of 2754 meters above sea level. It is located at the following coordinates: (8.9, -82.6333).
The "Cerro Picacho" (English: Peak Mountain) is located in the western side of the province of Panama, in the district of San Carlos.

This summit has almost a twin top, its outline seems like a 2 horn mountain. There is a good visible path to hike up, and it takes nearly 40 minutes to get the highest point. Once there be careful to walk around because the heavy winds around.

The mountain has a green lagoon in its base, named "Laguna de San Carlos" (English: St. Charles lagoon).

Altitude in Feet: 3547
N 08?? 37.648 W 080?? 02.839
(17P E 604822 N 953797)
Your message has been sent.
Share this page
Find a mountain
Write a report