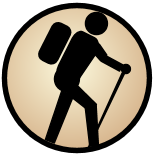 Hedgehog Mountain is located in New Hampshire, United States. It has an elevation of 696 meters above sea level. It is located at the following coordinates: (43.9731, -71.3628).
Hedgehog Mountain is just off the Kankamagus Highway in New Hampshire. It's near both Passaconaway and Chocorua, and has nice views of both. There are a lot of open ledges on this mountain, which makes it a fun hike!
Your message has been sent.
Share this page
Find a mountain
Write a report