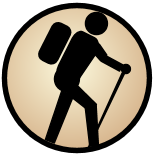 Saint Cyrus Beach is located in United Kingdom. It is located at the following coordinates: (56.7715, -2.4024).
The beach at Saint Cyrus contains a lovely view of the North Sea, and there is a trail that leads down the cliffs to the beach. You can also walk along the top of the cliff for some distance on one side.
Your message has been sent.
Share this page
Find a mountain
Write a report
I am Laura. I love experiencing the beauty of nature - flowers, the coast, waterfalls, great views. My husband is more of a hiker than I am, but I have greatly enjoyed accompanying him on many hikes over the past few years. I tend to prefer smaller mountains - I haven't done any 4,000-footers, and now that I have a baby it will be a while before I get the chance to do anything close to that
(more...)
Click here
to view more content by this hiker.