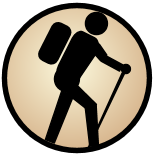 Mount Adams is located in New Hampshire, United States. It has an elevation of 1759 meters above sea level. It is located at the following coordinates: (44.3203, -71.2909).
Mount Adams was named for the second president of the United States, and it is one mountain removed from Washington (Jefferson lies between them). Adams has five summits, and they are named: John Adams, John Quincy Adams, Sam Adams, Adams Four, and Adams Five.
Your message has been sent.
Share this page
Find a mountain
Write a report