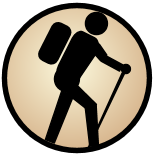 Chimborazo is located in Chimborazo, Ecuador. It has an elevation of 4995 meters above sea level. It is located at the following coordinates: (-1.48306, -78.7964).
Chimborazo is an inactive volcano in Ecuador. It is believed to have last erupted around 500 AD. If measured from the center of the earth, Chimborazo is the tallest mountain in the world. This is because it is near the equator, and the earth is actually oval-shaped, and widest at the equator.
Your message has been sent.
Share this page
Find a mountain
Write a report