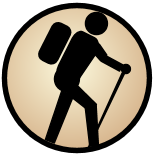 Speckled Mountain is located in Maine, United States. It has an elevation of 885 meters above sea level. It is located at the following coordinates: (44.2911, -70.955).
Located about 15.5 miles north of Fryeburg, ME on Rt. 113, Speckled Mountain provides incredible views of the White Mountains in both Maine and New Hampshire. There are many locations along the hike that provide great vistas and photographic opportunities.
Your message has been sent.
Share this page
Find a mountain
Write a report