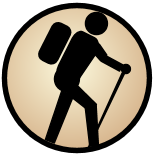 Volcan Popocatepetl is located in Mexico. It has an elevation of 5426 meters above sea level. It is located at the following coordinates: (19.0222, -98.6278).
Popocat??petl is a conical volcano near Puebla, Mexico, with an elevation of 17,717 feet. The name Popocat??petl means 'Smoking Mountain'. The name was given by the Aztecs. The name Popocat??petl is often shortened to simply "Popo".
Your message has been sent.
Share this page
Find a mountain
Write a report