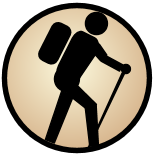 Table Rock is located in Maine, United States. It has an elevation of 734 meters above sea level. It is located at the following coordinates: (44.5882, -70.9358).
This description was written by
marcus
, about
Table Rock
.
Not enough votes to display a rating
Table Rock is a popular hike for folks living in the Western part of Maine. The hike is not too strenuous, and can be managed by children. It is often a destination for school and church groups. Be aware, however, that the plateau after which the mountain is named does not have any fences, so children need to be carefully monitored while at the peak.

Across the road from Table Rock you will find Old Speck, a much more challenging hike. Also, Table Rock is near Screw Auger Falls, which is a nice "cooling off" spot after you've finished your hike!
Your message has been sent.
Share this page
Find a mountain
Write a report