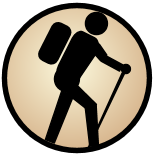 Sugarloaf Mountain is located in Maine, United States. It has an elevation of 1292 meters above sea level. It is located at the following coordinates: (45.0317, -70.3133).
This description was written by
Anonymous
, about
Sugarloaf Mountain
.
Not enough votes to display a rating
Sugarloaf is best known as one of Maine's finest skiing mountains. However, it is also a great hike as well. From the top of Sugarloaf you can see most of the Bigelow Range, as well as the Crockers.

Sugarloaf is one of Maine's 4000 foot peaks.
Share this page
Find a mountain
Write a report