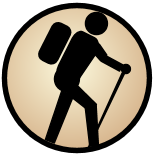 Mount McKinley is located in Alaska, United States. It has an elevation of 6105 meters above sea level. It is located at the following coordinates: (63.0695, -151.007).
This description was written by
Anonymous
, about
Mount McKinley
.
Not enough votes to display a rating
Mount McKinley is located in Denali National Park in Alaska. McKinley is the highest peak in North America, and should only be attempted by professional mountain climbers. McKinley claims the lives of several climbers each year.

McKinley is approximately 22,000 feet tall, and the elevation gain from the base to the peak is approximately 18,000 feet.
Share this page
Find a mountain
Write a report