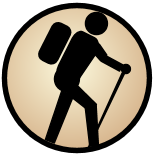 Hosac Mountain is located in Maine, United States. It has an elevation of 400 meters above sea level. It is located at the following coordinates: (43.751, -70.7802).
This description was written by
Anonymous
, about
Hosac Mountain
.
Not enough votes to display a rating
I rode a snowmobile up this mountain. It started out as a nice trail tapering down to a washed out hillclimb covered in two feet of frozen snow! It was awsome! great views from up top! very fun. Cant wait to do it again.
Share this page
Find a mountain
Write a report