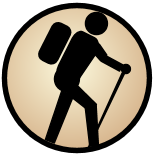 Mount Chocorua is located in New Hampshire, United States. It has an elevation of 1060 meters above sea level. It is located at the following coordinates: (43.9542, -71.2734).
Mount Chocorua is in the White Mountains of New Hampshire. It is distant enough from other mountains that there is little to block your view in 360 degrees from the summit. This mountain is also home of the Champney Falls, a waterfall which is a popular family destination.
Your message has been sent.
Share this page
Find a mountain
Write a report
Most of my hiking happens in the North East region of the United States. I don't hike as much as I used to, now that we have a baby in the house, but I do love to get out and explore now and then! If I've provided incorrect info in any of my reports, please drop me a comment so I can fix it!
(more...)
Click here
to view more content by this hiker.