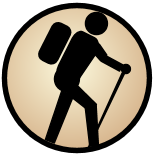 Jebel ech Chambi is located in Al Qasrayn, Tunisia. It has an elevation of 1544 meters above sea level. It is located at the following coordinates: (35.2068, 8.68265).
This description was written by
Anonymous
, about
Jebel ech Chambi
.
Not enough votes to display a rating
I live at the base of the mountain and have gone there to visit. You can not get to the top due to antenna being up there and protected by the military but there are great stops along the way including Roman ruins to visit and tiny cafes to rest those weary bones. At times we can see snowcapped peaks and the storms coming over the mountain are spectacular to see. Come visit Tunisa and enjoy the wonders of beautiful Chambi, my next door neighbor!
Share this page
Find a mountain
Write a report