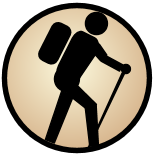 Bear Mountain is located in Maine, United States. It has an elevation of 366 meters above sea level. It is located at the following coordinates: (44.3647, -70.2775).
I hiked Bear Mountain today with my wife and daughter and had a great time. It was a perfect hike for the entire family. We made it to the top in about 45 minutes at a leisurely pace. The views of Bear Pond and surrounding mountains are outstanding and we were pleasantly surprised to find the top of the mountain covered in wild blueberries. I will definitely hike this mountain again. It would be a fun climb on snowshoes this winter for sure.
Your message has been sent.
Share this page
Find a mountain
Write a report