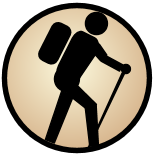 Kanchenjunga
Kanchenjunga is located in Nepal. It has an elevation of 8586 meters above sea level. It is located at the following coordinates: (27.7031, 88.1474)
Describe this location
Kangchenjunga in the Himalayan Range, is the third highest mountain in the world.
Three of the five peaks (main, central, and south) are on the border of the Indian North Sikkim and Taplejung District of Nepal, while the other two are completely in Taplejung District.
The huge massif of Kangchenjunga is buttressed by great ridges running roughly due east to west and north to south, forming a giant 'X'.
These ridges contain a host of peaks between 6,000 and 8,000 metres. On the east
(more)
Share this page
Report trail conditions
Describe this location
Write a hike report