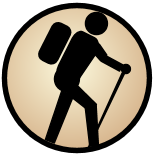 Angel Falls is located in Maine, United States. It is located at the following coordinates: (44.7831, -70.7106).
This hike report was written by
Douglas Twitchell
, about a hike on Wednesday, September 21, 2005.
Not enough votes to display a rating
To get to Angel Falls from the south/east, take Route 17 west from Rumford/Mexico. Follow Route 17 approximately 17.8 miles from the intersection of Route 17 and Route 2. At this point you will find a left hand turn onto a dirt road. This road is not labeled, but visible from the turn you will see a small bridge, which is labeled with a sign: Swift River.

Follow this dirt road approximately 3.6 miles. The road is very rough; you do not want to take a low-posted vehicle on this road. In places there are large ditches across the road, which must be crossed.

About 3.6 miles in on this road you will turn at a left hand turn. This turn is also poorly labeled; when we went there was only a red ribbon around a tree, and a small sign warning hikers not to leave trash behind. Follow this road to the end, where you will park and begin your hike.
This hike was done with a large group of hikers; myself, a large group of people from First Baptist Church in Kingfield, Maine, plus a couple friends of mine I know from Camp Berea in Turner, Maine. The group contained eight adults and quite a good number of children.

We had great weather, although a bit chilly (so said some in the group; I thought it was fine!) We started hiking in the morning, and took about 25 minutes to get in to the falls. There really is not a well-marked trail, however, it is fairly obvious where to go, as you more or less follow the stream all the way to the falls. Three or four times you have to cross over the stream, but there are stepping stones to help out with the crossing. The youngest children needed help, but in our entire group I don't think there was a single wet foot!

The trail is a nice gradual hike through the woods, bringing us out to the falls, which are really beautiful. Some waterfalls are impressive because of their sheer power; Angel Falls probably won't impress you that way, but the falls cascade down over the rocks, and are delightful to watch.

Don't expect to see any external views - the falls are in the woods, so you won't see distant mountain peaks or anything like that. But the falls themselves are worth the hike.

Some of the teens in the group decided to climb to the top of the falls, to the consternation of parents. I've been told that climbing to the top of the falls is something which should be done only by experienced hikers, but I didn't try it, so I don't know what it was like.

We stood and sat around on the rocks, enjoying the view and the company for quite awhile, then turned around and headed back.

In all, we probably spent as much time bumping around on dirt roads as we did hiking, but it was definitely an enjoyable hike.
This was a very easy hike; we did it with ages ranging from adults down to a three year old. The three and five year old children occasionally needed some help crossing the stream, but the rest had no difficulties with the hike.

There are no steep pitches in this hike, so it makes a nice easy and quick hike for the whole family.

We hiked in the fall; one of my fellow-hikers mentioned that during the spring time the falls are much more dramatic, but crossing the stream is a bit more problematic.

Angel Falls is 30 yards tall. The trail leading to the falls is short, and takes about 20 to 30 minutes to hike, with a group of mixed ages.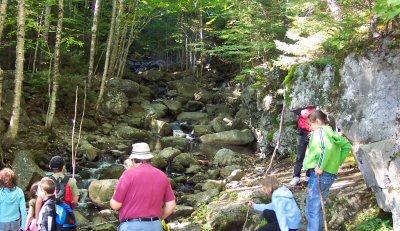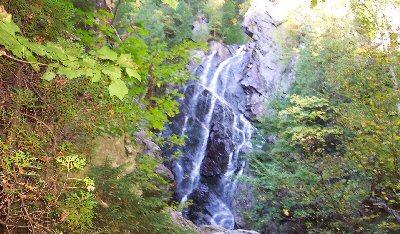 Images on this page are the property of Douglas Twitchell, and may not be used without permission of the owner.
Your message has been sent.
Share this page
Find a mountain
Write a report
Most of my hiking happens in the North East region of the United States. I don't hike as much as I used to, now that we have a baby in the house, but I do love to get out and explore now and then! If I've provided incorrect info in any of my reports, please drop me a comment so I can fix it!
(more...)
Click here
to view more content by this hiker.