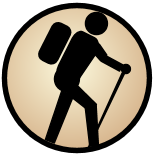 Angel Falls
Angel Falls is located in Maine, United States. It is located at the following coordinates: (44.7831, -70.7106)
Write a Hike Report
This hike was done with a large group of hikers; myself, a large group of people from First Baptist Church in Kingfield, Maine, plus a couple friends of mine I know from Camp Berea in Turner, Maine. The group contained eight adults and quite a good number of children.
We had great weather, although a bit chilly (so said some in the group; I thought it was fine!) We started hiking in the morning, and took about 25 minutes to get in to the falls. There really is not a well-marked trail, however, it is fairly obvious where to go, as you more or less follow the stream all the way to the falls. Three or four times you have to cross over the stream, but there are stepping stones to help out with the crossing. The youngest children needed help, but in our entire group I don't think there was a single wet foot!
The trail is a nice gradual hike through the woods, bringing us out to the falls, which are really beautiful. Some waterfalls are impressive because of their
(more...)





I only wanted to add to the previous post that climbing to the top is well worth it. Not too difficult, and certainly not dangerous, you start at the left side of the falls and climb almost vertically sometimes. Once up, if you continue on upstream, you are greeted with several small cascade watterfalls that, in the summer, are quite refreshing to wade into. My group found the upstream portion to be as rewarding as the main falls for it's texture and variation.
(more...)




Share this page
Report trail conditions
Describe this location
Write a hike report
Describe this location
Angel Falls is the tallest waterfall in the State Of Maine. It is accessible by a short hiking trail off Route 17, just north of Byron, Maine.

These cascading falls are 30 yards tall, very beautiful, but located in the woods, so there are no good scenic views except the falls themselves.