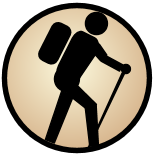 Ragged Mountain is located in Maine, United States. It has an elevation of 396 meters above sea level. It is located at the following coordinates: (44.2125, -69.151).
This hike report was written by
Douglas Twitchell
, about a hike on Wednesday, August 13, 2008.
Not enough votes to display a rating
Although the Maine Atlas And Gazetteer says to start at the Camden Snow Bowl and hike up along the ski lift line, we were told there was a much nicer way to do it. Turn left (north) out of the Camden Snow Bowl parking area, and follow the road up a fairly lengthy hill. When are almost to the top of the hill, on your right you will see a sign that says "Georges Highland Preserve". This is a parking area for the hiking trails. The trail head is clearly marked at the back of the parking lot.

You might think "Wait! This is the wrong side of the road!"

Have no fear. Follow the trail, and almost immediately it splits. Going right takes you to Bald Mountain, going left parallels the road for a little bit, and then crosses over the road and up Ragged Mountain.
I'm at Camp Fairhaven in Brooks, ME for the week, and wanted to get in a bit of hiking, so I convinced Tom, one of the guys who's doing maintenance, to take the morning off and go with me.

It was a beautiful morning, though a bit hazy at first, and because it had been raining for about a week straight, the trail was - at first - kind of muddy. But we had no trouble picking our way through the muddy sections. When you start hiking you'll feel like you're going the wrong way, since you are heading almost exactly 180 degrees opposite the mountain. But you won't go very far before you cross a little foot bridge and the trail divides. Turn right onto the Ragged Mountain trail.

This was a really nice trail to hike - it was easy going, the blue blazes were very clear and came at regular intervals, and there were several places along the way where the trail breaks out onto rocky ledges, where you get some nice views of Bald Mountain to the east. It almost felt like it was too soon that we reached the summit, a series of ledges which give you views to the east, across Penobscot Bay, and north as well. The views were very nice, easily as nice as the Mount Battie and Mount Megunticook views, so I'm puzzled why I've not heard more people talk about this hike.

Strictly speaking, I don't think those ledges are the actual summit, but it appears that the summit is in the middle of the woods, and not really all that exciting to see.

After snapping some pictures and watching a bunch of frogs play in a little pond, we turned around and went back down the trail.

In all, with our time for exploration and picture taking, we spent about 2:15 hours on the mountain.
Definitely doable by the entire family! This trail is not at all steep, and as long as it's not a wet and slippery day, no one should have any trouble climbing up over the steepest of the trail.

This hike was easy enough that when we arrived back at the bottom, I wanted to continue on the trail to hike Bald Mountain as well.
It took about an hour to get up, and another 45 minutes (with several stops for pictures) to get back down. The Maine Atlas and Gazetteer says that the hike is 1 mile long, with a 1000 foot elevation gain. However, starting at the Georges Highland Preserve trail, I believe the hike is actually longer, and with less elevation gain, which makes this a very nice, easy hike.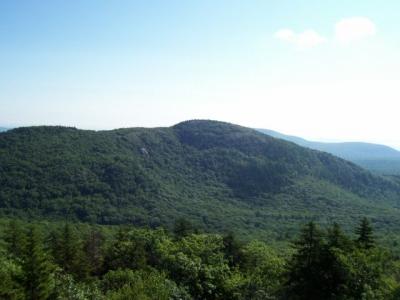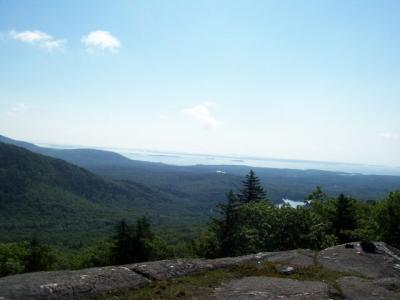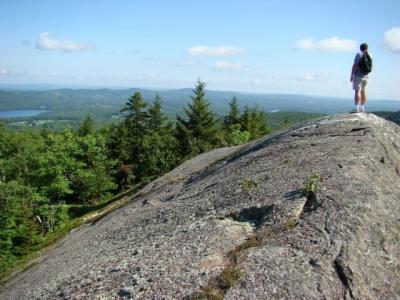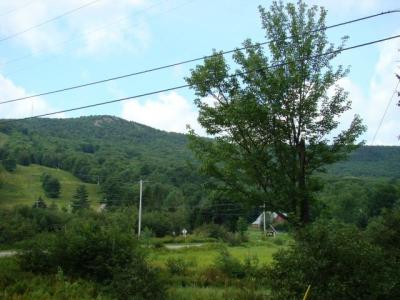 Images on this page are the property of Douglas Twitchell, and may not be used without permission of the owner.
Your message has been sent.
Share this page
Find a mountain
Write a report
Most of my hiking happens in the North East region of the United States. I don't hike as much as I used to, now that we have a baby in the house, but I do love to get out and explore now and then! If I've provided incorrect info in any of my reports, please drop me a comment so I can fix it!
(more...)
Click here
to view more content by this hiker.