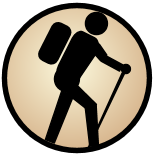 Angel Falls is located in Maine, United States. It is located at the following coordinates: (44.7831, -70.7106).
This hike report was written by
Anonymous
, about a hike on Saturday, October 4, 2008.
Not enough votes to display a rating
I agree with dtwitchell on the location.
I only wanted to add to the previous post that climbing to the top is well worth it. Not too difficult, and certainly not dangerous, you start at the left side of the falls and climb almost vertically sometimes. Once up, if you continue on upstream, you are greeted with several small cascade watterfalls that, in the summer, are quite refreshing to wade into. My group found the upstream portion to be as rewarding as the main falls for it's texture and variation.
Easy: just a walk through the woods and a few hops ove the stream.
See previous.
Share this page
Find a mountain
Write a report