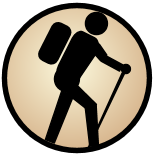 La Malinche is located in Mexico. It has an elevation of 1920 meters above sea level. It is located at the following coordinates: (19.2308, -98.0319).
This hike report was written by
outlawcatcher
, about a hike on Monday, September 5, 2011.
Not enough votes to display a rating
Follow the road that goes past the resort for five minutes until you see a path that veers off into the woods on the right.
Overview: La Malinche can be put into the 'moderate day hike' categroy but it is more than that. At 4,460m it is a high altitude hike that deserves some respect as you will certainly feel the effects of altitude but it is a great mountain to take in if you are in Mexico.

Base Camp: There is a 'resort' area at 3000 m (9800 ft) - "Centro Vacacional Malintz??n" - which has very comfortable cabins and camping. It is an ideal location to acclimatize and start an ascent of the volcano. There is a basketball and volleyball court, two restaurants, a gift shop and several small shops with basic snacks and drinks. There is also a synthetic 400m running track nearby too!

Standard Route: When I hiked this peak with my girlfriend we stayed in the resort and set out at 8am in the morning. The access road passes the resort area and continues partway up the mountain, switchbacking most of the way. The hiking trail to the summit begins at the resort area, cutting across the road switchbacks for the first section and up through a pine forest for around 2.5 hours until you then get onto the mountain proper for the remaining 1.5 hours to the summit. From here there are great views and it is worth spending a bit of time there. A fit hiker will take 4 hours for the ascent and in this will be 1,400m+ of height gain. You could do this ascent in 3 hours if you are in shape and travelling light. It takes two hours to get back down so with rest breaks this hike can be done up and back in six hours.


Route Notes: Easy to follow forest paths until you come out onto the mountain. The trail is still easy to follow all the way up to the main summit ridge. Here it gets rocky underfoot and you are in 'scrambling' territory for the last 45 minutes. You have to use your hands often in places especially on the last summit block but nowhere is it more difficult than a UK grade 1 scramble.

Also beware of the dogs on the route, they wont bite you but they will follow you all the way to the summit. When I did this hike for the 2nd time my friend had to carry the dog down in his rucksack as the poor mite was plain 'dog tired'!

Maps: You can get 1:50,000 maps in Mexico city.

Summary: This is a great day out, an excellent training hike if you are heading to the higher peaks of Mexico. However do remember that it can get cold despite the customary sky blue Mexican sunshine so ensure you are properly equipped and do take at least two litres of fluids as there is none on the climb.

You could do this hike with an active child of over ten years of age in my opinion. The route is busy and families on it are the norm though not all may reach the top. The hardest part of the route is the last hour where the route is steepest. There is no water on the route.
1,400+m of ascent, 14km (approx) hike distance.
4 hours hike to the summit & 2 hours down. This includes rest breaks. 2.5 hours of hiking through a forest and 1.5 hours on the mountain proper.
Your message has been sent.
Share this page
Find a mountain
Write a report