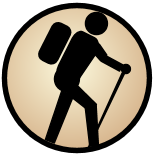 Marengo Cave is located in Indiana, United States. It is located at the following coordinates: (38.369, -86.343).
This hike report was written by
PastorJon
, about a hike on Friday, September 9, 2005.
Not enough votes to display a rating
You will begin your exploration of Marengo Cave at the visitor center/gift shop. From Indianapolis, drive south on SR-37 to the town of English. Go east on SR-64 for 8 miles, Marengo Cave is on your left. Follow the signs to the parking lot and enter the visitor center to plan your day.
The cave has a long history and a wide variety of formations. Knowledgeable guides keep young ones entertained and educate the more mature. Each tour features an experience of absolute darkness, where all of the lights are turned off. Each tour group is made up of around 30 people, and you can schedule your tour(s) with the front desk to suit your needs. There is a small cafe on site, but it was not well-stocked when we were there so we ate at a local sandwich shop nearby.

We went on both of the underground tours, detailed below:

Dripstone Trail: This 70 minute tour is conducted at a relaxed pace. The tour guide describes the formations of the cave as well as its history. This hike takes you three levels underground, and allows you to see the majority of the open portions of the cave. If you only have time or money to do one trail, this is the trail for you. This trail highlights the following areas of the cave: Soda Straw Crawl, Great Wall of China, Penny Ceiling, Music Hall (including Caller's Rock and the Bandstand), Elk's Hall, Pulpit Rock, and Mirror Lake.

Crystal Palace Tour: This 40 minute walk covers less territory, duplicates a small portion of the Dripstone trail, and concludes with a somewhat cheesy slide-show presentation with music and lights. However, it does cover sections of the cave that are not included in the Dripstone Trail, and is worth having a combo pass if you have the time. Highlights of this hike include: Mirror Lake, Mt. Vesuvius, Tom Tom, Rock of Ages, and the Crystal Palace with its Pipe Organ.

General Information: At the time of our hike, the Crystal Palace Tour cost $12, the Dripstone Trail Tour cost $13.50, and the combination tour was $19.50 (adult prices).

Hikers are not allowed to walk off by themselves, enforced by a guide controlled lighting system and the fact that the following are not permitted in the caves: backpacks, back-mounted child carriers, strollers, tripods, video cameras, flashlights, head lamps, food or drink (that's right, not even water).

Hikers should wear a sweatshirt, as the temperature in the cave is 52 degrees year-round.
This is a good underground hike for families. While strollers or wheelchairs are not allowed, any elevation loss or gain is very gradual. Most people can stand straight the entire time, some taller people may need to bend over to avoid touching the ceiling. Only the most claustrophobic individuals will have any trouble with this hike.
Dripstone Trail Tour: 70 minutes
Crystal Palace Tour: 40 minutes
Temperature: 52 degrees year-round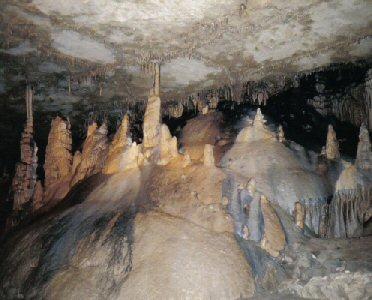 Images on this page are the property of PastorJon, and may not be used without permission of the owner.
Your message has been sent.
Share this page
Find a mountain
Write a report