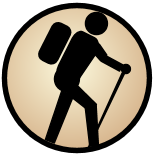 Hawk Mountain is located in Maine, United States. It has an elevation of 325 meters above sea level. It is located at the following coordinates: (44.151, -70.6926).
This hike report was written by
Douglas Twitchell
, about a hike on Thursday, June 23, 2016.
Coming from Norway, take route 118 to Waterford, and turn left onto route 37. About 4 miles later, you'll come to the intersection with the Sweden Road (which is on the right). Continue on straight past that intersection, but almost immediately after, Mill Hill Road is on the left. This road was unlabeled, so make sure you watch for the Sweden Road intersection, which is labeled!

After turning onto Mill Hill Road, Hawk Mountain road is about a half a mile down the road, on the right. Turn onto Hawk Mountain Road and continue on for about seven tenths of a mile. You'll probably see a sign that says "closed for winter maintenance" (even though it was summer when we hiked!) but keep right on going. You're almost there at that point. On the left there's a parking area, and opposite is the trail, which can't be missed, considering there's a very large "Hawk Mountain" sign at the trailhead!
I hiked Hawk Mountain with my wife and two children. Our boy, who is almost four, hiked up, while our daughter (sixteen months) rode in a pack on my back.
The trail up Hawk Mountain is actually more like a road than a trail. Mind you, I wouldn't drive my car over it, but I did see evidence that some vehicles - probably jeeps or ATVs had made the trip up.
For the most part the trail was dry, but near the top, where it starts leveling out, there were a lot of large puddles in the road, so we had to skirt around the edges of the road.
At one point, right around that time, we saw a branch in the trail that went off the left. We wondered which way led to the summit, and guessed that we should go straight. That turned out to be a good guess.
After walking on fairly level ground for a bit, we actually dipped down a bit, which made me worry we'd taken the wrong trail. However, we came out in a clearing with a bit of a view looking out over a pond/lake.
When you reach this point,
don't stop
. Make sure you continue on into the woods beyond the clearing. There's a little gully, and then up the other side you come out on some nice ledges with beautiful views of several lakes, Pleasant Mountain, Kearsarge North, and Mount Washington.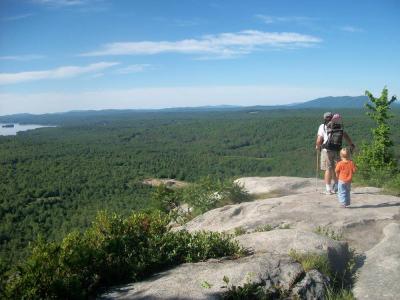 Looking toward Pleasant Mountain
Although the sign at the bottom of the mountain says that it's "open" from a half-hour before sunrise to a half-hour after sunset, it was obvious that people had been camping there. There were camp fires, trash, and broken glass bottles. The broken glass was especially disappointing, since we wanted to let our girl down to explore, but had to keep right behind her to keep her out of the areas where the was glass.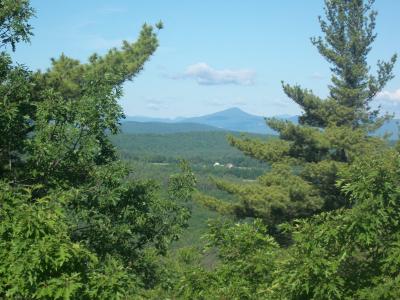 Kearsarge North in the distance
After a snack, we headed back down. I pushed on ahead a bit, and took the fork (which was now on the right) to see where it led. After just a short walk I came to a place where the road was so flooded that I would have had to bushwhack around it. Not something I wanted to do with the little one on my back. So I turned around and came back to the main trail. If anyone else knows what's out that way, feel free to drop a comment!
This was easy enough for our not-quite-four boy to hike entirely on his own power. The trail is not steep.
I didn't measure the distance or elevation, but one hike report I read online said it's about 0.7 miles to the summit. Another said 0.5 miles. That'll give a general idea!

We were on the mountain from 8:15 - 9:30, which included a fair amount of time at the summit, so we probably took about a half an hour hiking time each direction. Without a small child it would be quicker.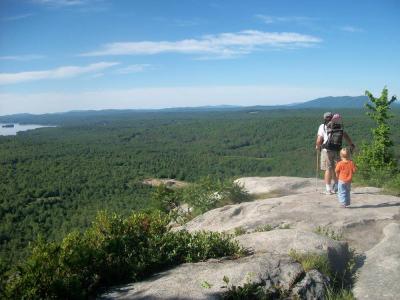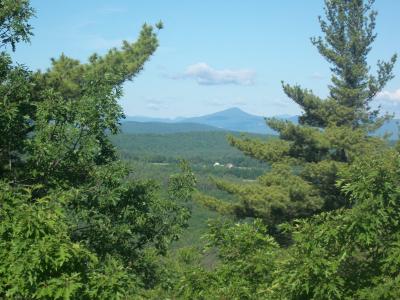 Images on this page are the property of Douglas Twitchell, and may not be used without permission of the owner.
Your message has been sent.
Share this page
Find a mountain
Write a report
Most of my hiking happens in the North East region of the United States. I don't hike as much as I used to, now that we have a baby in the house, but I do love to get out and explore now and then! If I've provided incorrect info in any of my reports, please drop me a comment so I can fix it!
(more...)
Click here
to view more content by this hiker.