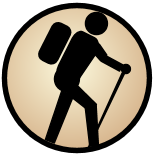 Black Cap is located in New Hampshire, United States. It has an elevation of 718 meters above sea level. It is located at the following coordinates: (44.0559, -71.0667).
This hike report was written by
Douglas Twitchell
, about a hike on Friday, August 5, 2016.
Not enough votes to display a rating
If you're coming from Maine, you have two options. One is to go to North Conway/Intervale, and then take the Hurricane Mountain Road east toward the mountain, or go to North Chatham, NH and take Hurricane Mountain Road west toward the mountain.

Either way, you'll have quite a drive, as Hurricane Mountain Road really is a mountain road. Be prepared to work your vehicle hard, and then take it in a low gear on the way back down.

From the Maine side, the trailhead is 2.3 miles in on the Hurricane Mountain Road. From the New Hampshire side, it's 3.7 miles in on Hurricane Mountain Road.
I hiked this mountain with my son, who is not quite four years old. Neither one of us had hiked it before, but I'd read that it was a good family hike. This was definitely true. The trail is wide enough that Toby could hold my hand and walk next to me comfortably most of the way up the mountain. We never had any trouble following the trail, and it was clearly marked with red blazes all the way to the summit. There were a couple places where the trail forked, but there were also signs clearly showing which way to go.
Near the top, when the trail came out onto open ledges, we would occasionally see two sets of red blazes painted on the rocks, so apparently the recommended path was "moved" at some point recently. It was easy to distinguish between the fresh paint and the old paint, though, so we had no trouble deciding which way to go.
The actual summit of the mountain doesn't actually have the nicest views, as there are trees surrounding the open summit, which blocks views in some directions. However, near the summit there are some nice ledges where you can sit an enjoy unobstructed views.
You can see Kearsarge North and Bartlett Mountain directly behind you as you hike up the open ledges, and Mount Washington behind them and a little to the left.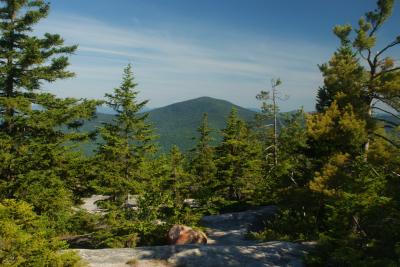 Kearsarge North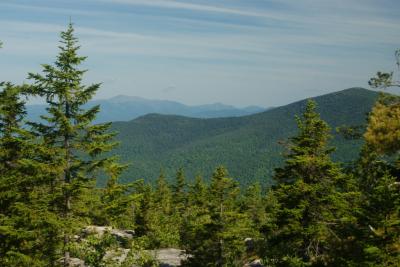 Kearsarge, Bartlett, Washington
Turning further to the west you can see the town of North Conway, and then further along you get a nice view of the dramatic peaks of Mount Chocorua.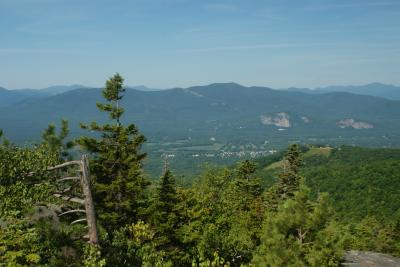 North Conway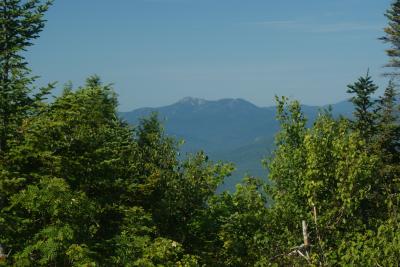 Mount Chocorua
Toby and I sat on the summit for quite awhile eating a snack and enjoying the peacefulness of the day.
We also saw quite a few squirrels and chipmunks, many of which didn't seem very intimidated by us, and just sat by the edge of the trail watching us walk by.
This hike was great for a family, primarily because the Hurricane Mountain takes you most of the way up the mountain, so you're already at a pretty high elevation when you start hiking.
This hike took us just under an hour up. Our elevation gain was about 700 feet, and the hike length (according to the signs) is about 1.1 miles one way.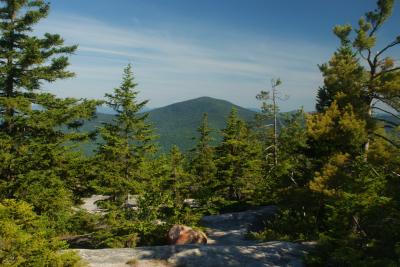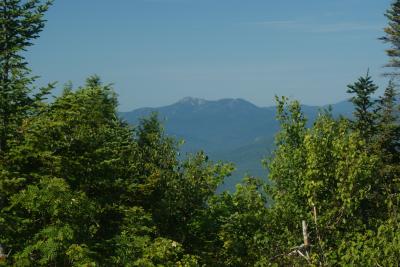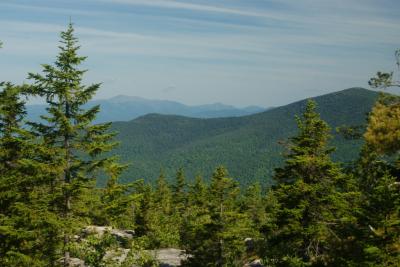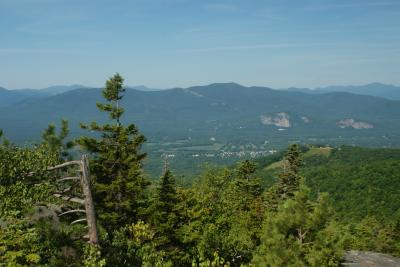 Images on this page are the property of Douglas Twitchell, and may not be used without permission of the owner.
Your message has been sent.
Share this page
Find a mountain
Write a report
Most of my hiking happens in the North East region of the United States. I don't hike as much as I used to, now that we have a baby in the house, but I do love to get out and explore now and then! If I've provided incorrect info in any of my reports, please drop me a comment so I can fix it!
(more...)
Click here
to view more content by this hiker.