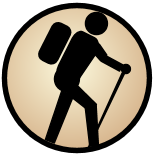 Black Mountain is located in Maine, United States. It has an elevation of 964 meters above sea level. It is located at the following coordinates: (44.4564, -70.9092).
This description was written by
Anonymous
, about
Black Mountain
.
Not enough votes to display a rating
The previous commenters are correct: this is an easy mountain on which to get lost. In fact, I have gotten waylaid at one point or another almost every time that I have hiked in this immediate vicinity, though of course I've always found my way back too. The "trails," such as they are, are generally unmarked so good routefinding skills are required. All the logging activity in the area also helps to conceal and confuse older trails. And I suspect that there may be a magnetic anomaly in this area because I'm very good with a map and compass and yet I have still managed to get turned around in this area. The same holds true for the "eastern" approach to nearby Speckled Mountain.
Share this page
Find a mountain
Write a report