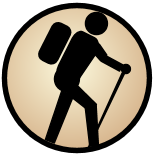 Aziscohos Mountain
Aziscohos Mountain is located in Maine, United States. It has an elevation of 974 meters above sea level. It is located at the following coordinates: (44.9141, -71.0018)
Write a Hike Report
We found this a really enjoyable hike, but it is to bad that the trail isn't maintained and in better shape. The vegatation was so green with moss covering everthing it seemed! This is certainly the year for mushrooms and there were a lot around this trail. The views are really nice from the top with so many lakes and mountains around. We were disappointed that is was a hazy day and we could barely make out Mt. Washington.
(more...)





Initially, we were going to have four of us going on this hike, but two had to cancel, so it was just me and Alex. Because of all the rain we've had this summer, the first part of the trail was quite muddy (though we met someone along the way who said it was MUCH muddier last summer). Apparently muddy is common for this trail.
Once you get beyond the muddy part, the trail gets a bit steeper, and there are a few places you have to climb up over some boulders, but I've definitely done much harder hikes this summer.
There are no forks in the trail until you get almost to the summit. Just before the summit the trail hits a fork where you can go either left or right. Right is the "North Trail", which takes you back down somewhere else on Route 16 (though I don't know where that other trail head is). Left takes you directly to the summit.
I think, when we broke out of the trees and onto the summit, our exact words were "Wow!" and "Holy smokes!"
(more...)





Share this page
Report trail conditions
Describe this location
Write a hike report
Describe this location
Aziscohos Mountain (also known as Aziscoos Mountain) is in the Rangeley area of the state, and has beautiful views of many mountains and lakes in the area - a wonderful reward for a not-too-difficult hike.