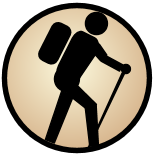 Hiker Space is...
A new kind of hiking website.
Your personal hiking journal on the web.
Community driven, completely
free
!
A place to share up-to-date trail conditions.
Here are some of the recently submitted hike reports. These are only teasers; be sure to click 'More' to see the full report!
Note: We are a participant in the Amazon Services LLC Associates Program, an affiliate advertising program designed to provide a means for us to earn fees by linking to Amazon.com and affiliated sites.
Site navigation
Click the hiker icon in the upper-right corner of the page to access menu options. From this site you can post your own hike reports, up-to-date trail conditions for the mountains you like to hike, or send messages to other members with questions about their hike reports.
Here are are some descriptions of our members' favorite mountains!